Case-Study: Up North Cleanup – Week 6
If you've landed here and are new to this case study, a little backstory might help. A few months ago, I partnered with a local animal waste cleanup company to help them expand into other property cleanup services. My goal is to have them in 2024 be a leading local lawn care company in the Alpena, MI region.
This blog post aims to display how thin AI-generated content that lacks uniqueness can hurt a business's online visibility and should be avoided whenever possible.
Don't mind us. We're just watching performing.
Regarding keyword rankings over the last few months, I have noticed a few shifts; of those, the most interesting one occurred today. Several months ago, our local marketing competitor launched one of two lawn care websites we compete with. The other one shortly after. Both websites are almost identical and mostly use AI-generated content. As you can imagine, this will likely cause ranking issues between Google's crawlers since they target the same user in the same area with similar keywords. We refuse to take clients in the same markets as other clients of ours, for this very reason.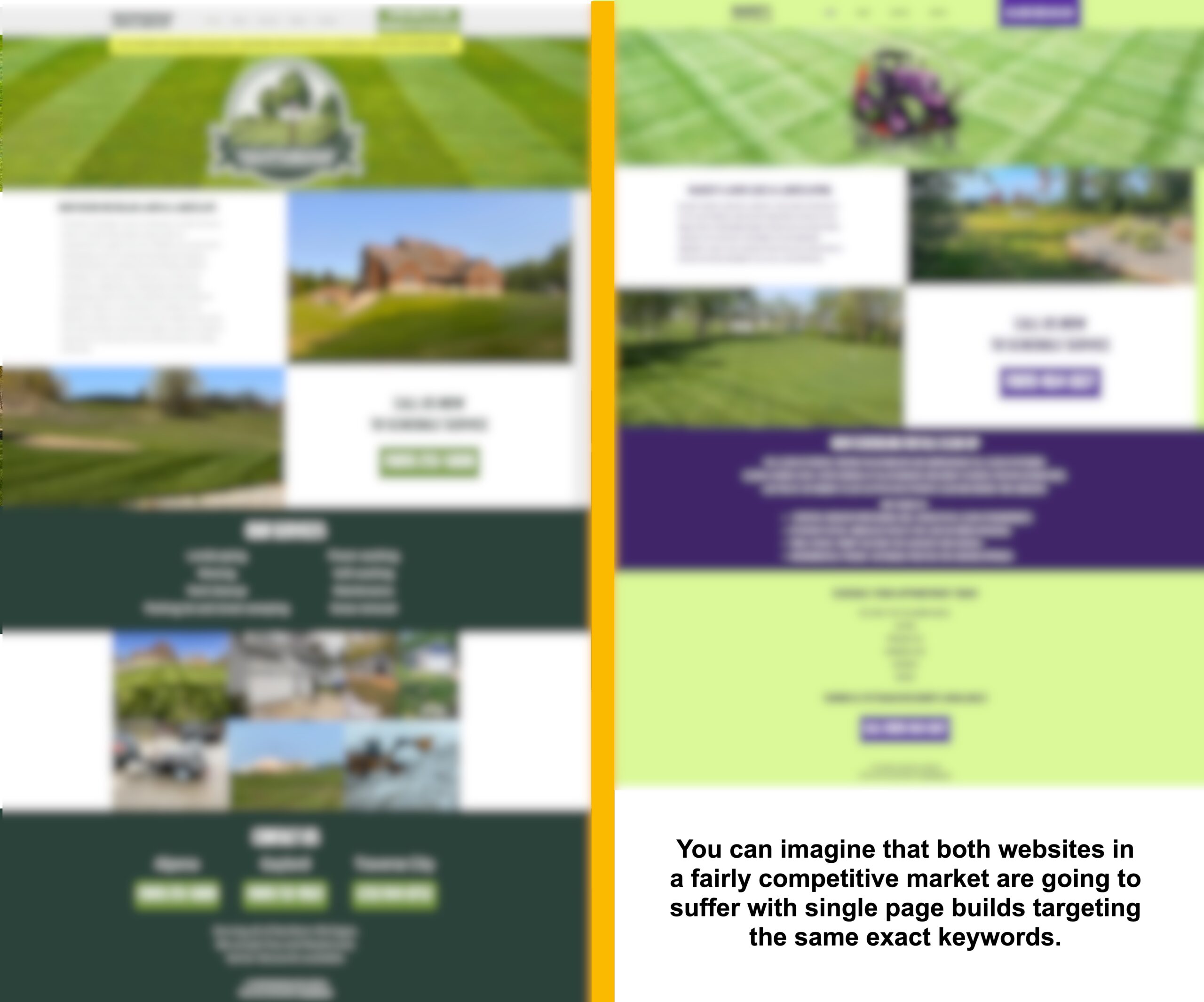 When a potential client is shopping around, they need to be able to pick you from a lineup as the one that stands out and the one they want to work with. This starts with excellent web design and architecture to assist in navigating them. SEO helps them look at you first in the line-up, but you will struggle to hold top positioning without the prior pieces. On top of that, not differentiating yourself from other local competition will make things hard for your business and brand.
Here is what it looks like when we allow these two websites to fight their way to the bottom:

Our website is the blue line, and we have filtered visibility to be only lawn-related terms (that's why the overall % is so low – we have about 8 different service categories beyond lawn care tracking). You can see, though, that the two sites are cannibalizing each other's efforts and keywords, giving our website room to grow. In the coming month, I predict our lawn care pages will consume the positions lost from the dive in the competitor dropping the most shown toward the far right.
This is great news and timing, as we officially plan to enter the market in the spring when we invest in several larger pieces of lawn-mowing equipment.
Unique Writing Points are Unique Selling Points
The shifts that I show above are happening right after Google released its most recent core algorithm update that focuses on useful content. This reinforces my belief that AI content is okay to use sparingly, but the focus must be on fleshing out unique and useful content for the users.
As a small business owner, you should embrace the idea of being the face of your business offline and online. The biggest thing you can do for your online presence is work hand-in-hand with your marketing agency to craft unique content that is valuable for your prospective clients to engage with. In the long run, this is what will always win.
We're gonna need a bigger boat!
Keeping it shorter tonight, but I figured I would share an interesting shift and potential correlation in data to the recent Google core algorithm update that has just been completed. Stay tuned to see if my predictions were correct on our gains in the coming weeks.