Case-Study: Up North Cleanup – Week 4
Before we get too far into things… this gets advanced.
Advanced SEO and data tracking is not for everyone.
My agency blog will often be me spitballing the solutions I am deploying as an owner to show you they exist and encourage one to look further into topics, learn deeper, or hold their existing marketing agencies more accountable.
The topics will not always be step-by-step guides. However, I will do my best to show the value of implementation or education on a topic so you can further dabble and learn to implement yourself. This protects what I consider proprietary in my work while still allowing growth in SEO education.
I posted a little over a week ago about the power of rebranding:
There is a New Competitor in Town – The Beginning
In this first segment of our case study, we began by laying out some groundwork for how we planned to take
Up North Cleanup
to the next level with marketing efforts as well as growing the company through its new brand name.
We closed and completed our first Junk Removal job in the week since I last wrote. Today, we did an on-site walkthrough for a HUGE beach cleanup and landscaping project. I am confident we will close this deal, and when we do, it will mean that in nearly the first 30 days since launching the rebrand, my skill set will have almost doubled this small business's yearly revenue.
If anyone tells you SEO is dead, point and laugh at them.
Through valid keyword research and competitor analysis, we identified and capitalized on a niche pocket of traffic worth chasing after and landed this massive lead. During the walk-through today with them, I couldn't help but smile ear-to-ear when she mentioned that she didn't know what to Google, but whatever words she tried, we kept coming up at the top.
Having leads come in is awesome, but not knowing how they came in and from what efforts can be expensive. But how do we track them from being traffic on the website and on through the conversion process? Let's look at some puzzle pieces and solutions to get us more detailed with our data.
Let's start by looking at how we are coming up for local searches and what might be driving some clicks.
Measuring SERP Visibility: Google Search Console
Over the last few weeks, our primary keywords have steadily increased in the search results since launching the newly-branded website. At least, that is what we seem to be seeing inside of Google Search Console (GSC).
There are a couple of caveats to reviewing data in the performance report of GSC that are worth noting:
Due to privacy, not all clicks on the graph are assigned in the table view.
This is Google organic traffic only.

Google Business Profile
Google Maps
Organic Google Search Results

No ad-related positioning or clicks!
Below is what we are showing from the date we were indexed in Google on 8/30/2023 to now. Our data shows we obtained 26 clicks in the graphs, but if you go off the table below, you will only see a single click tracked. Why is this? In some cases, especially when the volume of clicks or impressions is low for a specific query, Google may opt not to display it in the table to protect user privacy.
Note: What is important here is that we are seeing growth in non-branded search queries. Over time, since the intent of these searches is commercial and transactional, we should see a growth in lead volume as positioning improves.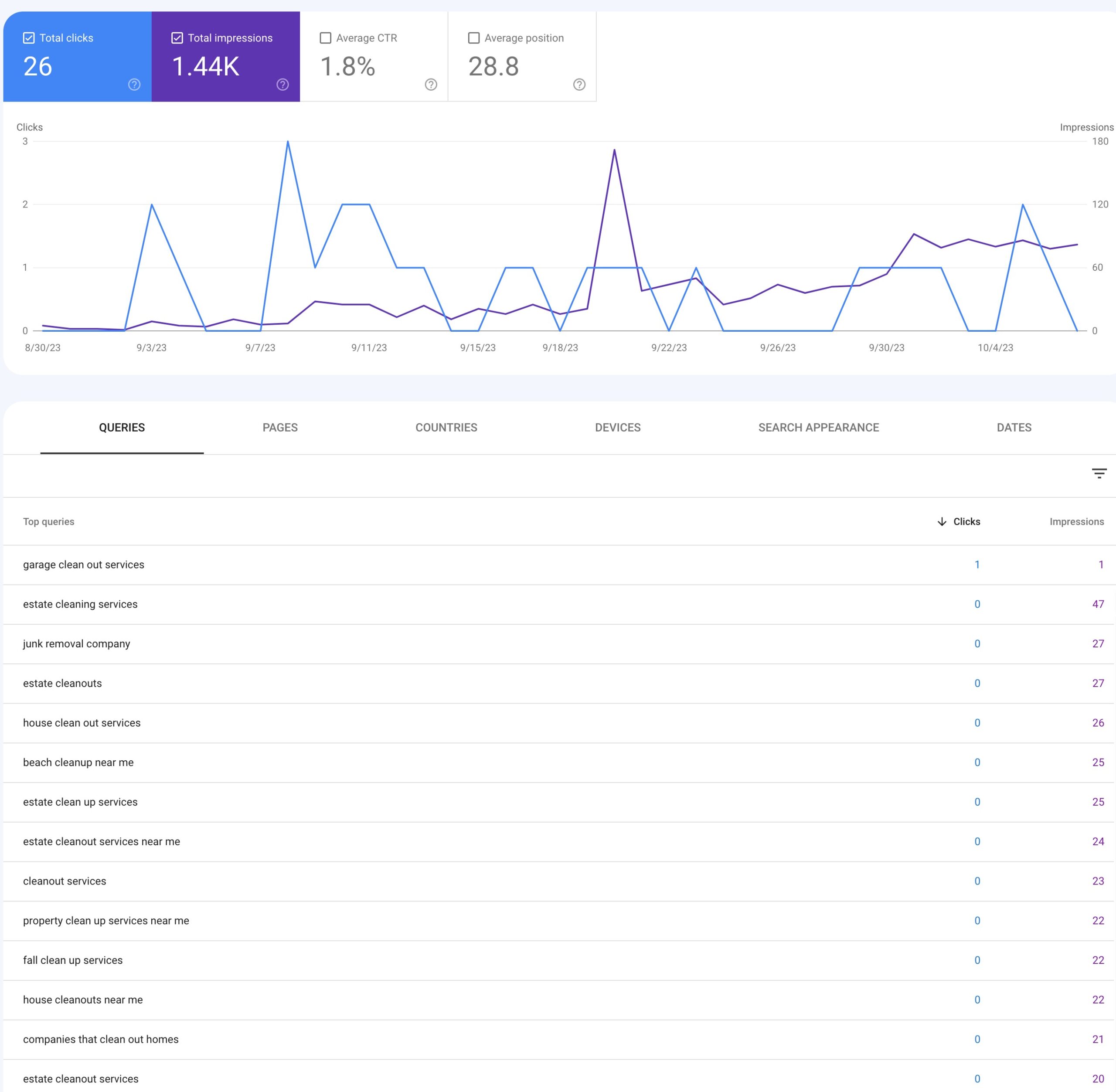 Great Start, but can we do better?
Absolutely! GSC is not the "be-all, end-all" regarding website or marketing performance. It's great for identifying a general direction of Search Engine Result Page (SERP) performance and other technical website improvement opportunities.
What happens after they click?
What about other traffic sources?
Where can we see on-site data and get granular?
You are looking for Google Analytics!
Using Google Analytics (GA4) to do better!
Google Analytics (GA4)
is pretty nifty when it comes to knowing exactly how traffic is getting to your website and tracking conversions. Unlike its predecessor, Universal Analytics (UA), GA4 can automatically register custom events you send to the data layer via the front-of-site. This means when someone clicks on a "Click to Call" button in your mobile header or submits a conversion form on a landing page, you can send an event via the
gtag(data)
function call. In our case, we listen for button clicks with jQuery, and when we identify a conversion-related button click or form submission, we send the appropriate data to the GA4 data layer to track it. If done properly, you will see the events inside of the GA4 debug view or real-time view. Below is an example of the real-time view in GA4 showing these events (see bottom two events):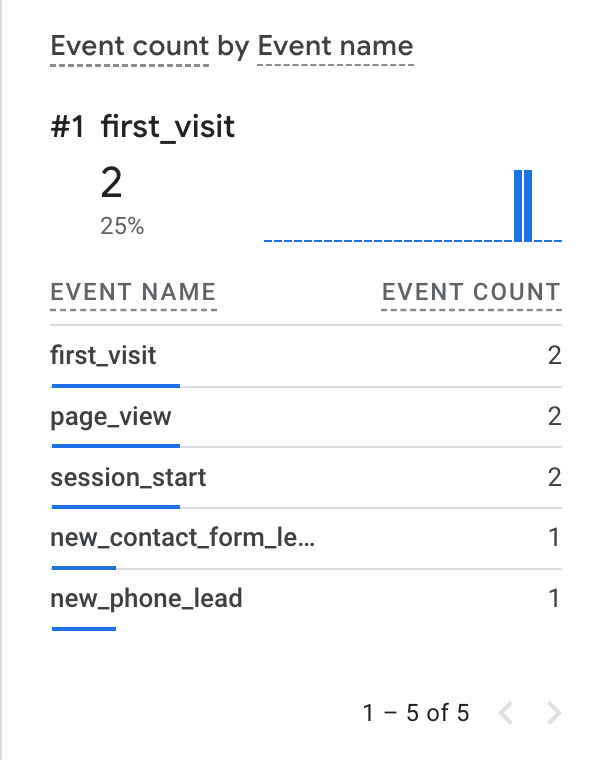 When this is then reported inside of standard reports or even better Looker Studio reports, you get a much better representation of where your leads are coming from and how your marketing spend is being utilized.
Conversion Data: "You are what you measure"
I have seen firsthand the need for more data attribution in marketing. Most agencies will build a website, install analytics, work to set up citations in directories for clients, and then never actually take the extra step to segregate data for accuracy in reports.
Bucketing Data: The Power of UTM Tags
When it comes to understanding your inbound traffic in analytics, there is no better way to do it than UTM tagging. This is what allows you to know which newsletter drove which conversion, which Facebook ad or post resulted in a Click to Call on mobile, etc.
UTM tags are a set of URL parameters that are attached after the URL destination is defined. To give you an example, this is our Google Business Profile website link when you find us on Google Maps or in the Map Pack in the SERPs:
https://goquickly.com/?utm_source=google&utm_medium=gbp&utm_campaign=gpb-profile-link
In the above example, everything after the trailing slash in the URL is for tracking and is known as UTM tagging. This allows for when this link is clicked, it to be separated from the standard buckets of traffic in the Google Analytics reports. These other types of content might be articles from your blog or featured snippets that appear. It is important to know if your Google Business Profile drives leads through your website and how it stacks up against your conversion pages.

UTM tagging is such a small effort with great rewards. They can be applied to all external links you control with minimal effort. The opportunities are endless with what you can do with them. They could help bucket your paid directories like Expertise.com, Chamber of Commerce pages, etc, to see which drove website traffic and if they resulted in on-site conversions. We tagged our recent Facebook Post from the Junk Removal job we landed and will report back once we have collected more data. You can see the embedded link below is shortened in the user's view, but in reality, it points to the following:
https://upnorthcleanup.com/services/scrap-trash-junk-removal/?utm_source=facebook&utm_medium=social&utm_campaign=junk-removal&utm_content=100823-before-after-junk-removal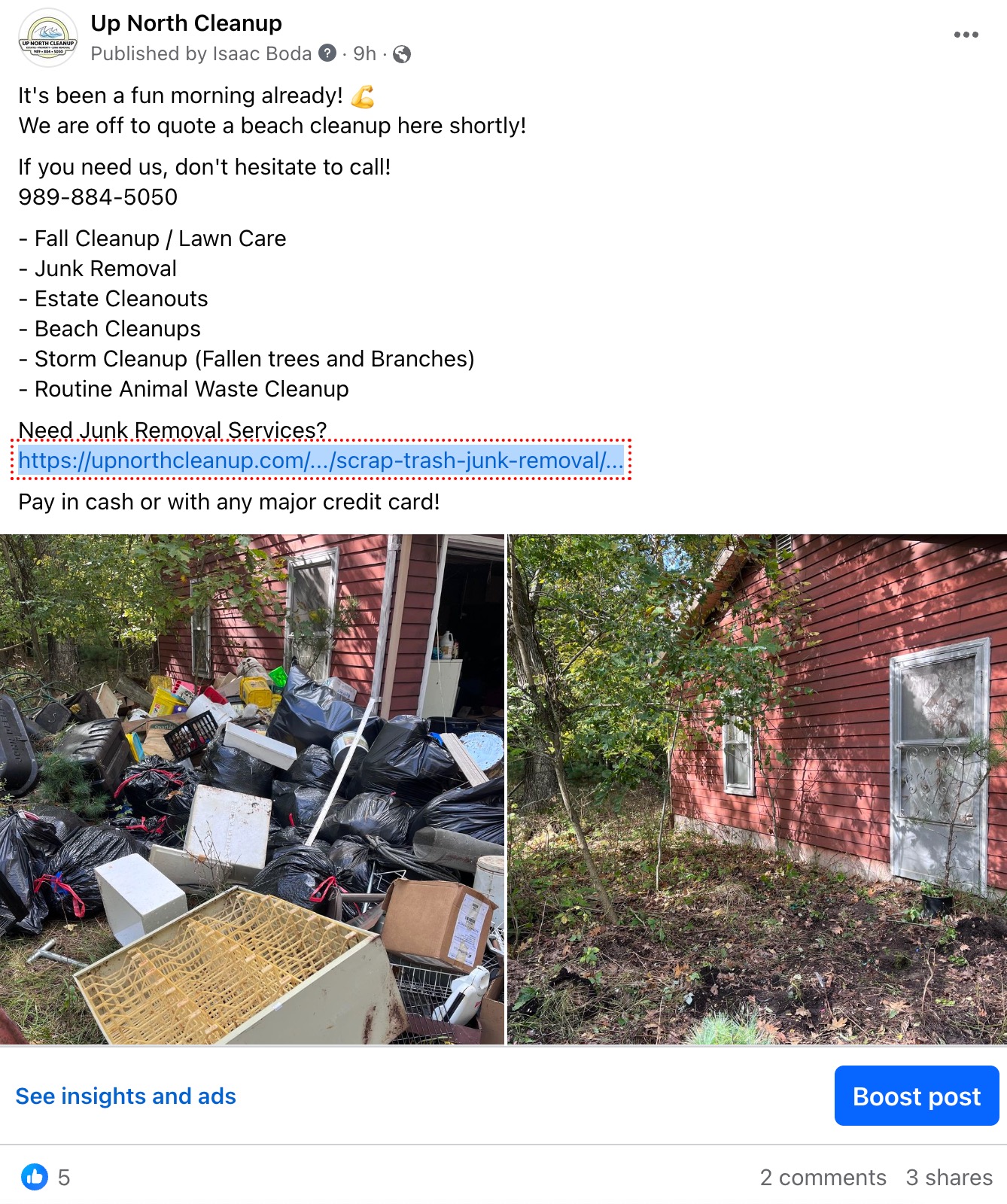 Putting it all together
This is an advanced topic, but it's important to know that to be successful with your marketing efforts and spending, you must understand how a lead finds you and how they convert. Knowing how to read your analytics can help you identify areas of improvement on your website and underlying issues.
With what I have shown above, you should have at least an idea of the following:
You can use The tool (Google Search Console) to find how users search for you and where you display in that search.
How you can track conversions on your website.
How you can bucket external traffic with UTM tags.
Let's Leave Things Here
A ton of data to process above, and I hope you enjoy reading through it. As a new face in a smaller pool of local companies, we are getting leads early with no marketing spend at the moment, and that is always good news.
In the next few months, I plan to do a writeup on in-depth Facebook and Google ads testing with storm damage cleanup and snow removal, should the weather permit. They say this winter is going to be rather mild up here. Which usually means buckle up, lol.
Stay tuned. More to come!